Overall, the Dubai Rugby 7s was a well-organized event which drew a large crowd in Dubai over the past weekend.
Below is a comprehensive review of what went well…and where improvements will help make the event even better in 2018.
PLUS: The Venue:
The venue around the main stadium offered sufficient space to accommodate a number of food and beverage tents, a large official merchandising tent, several entertainment zones and parking for 15,000 vehicles.
There were different zones for different target groups. The "Party Zone" for the party people who wanted to have a drink or two and dance listening to house music. The "Family Zone" for the families to keep the offspring busy. "Street Food" zones for eating and drinking.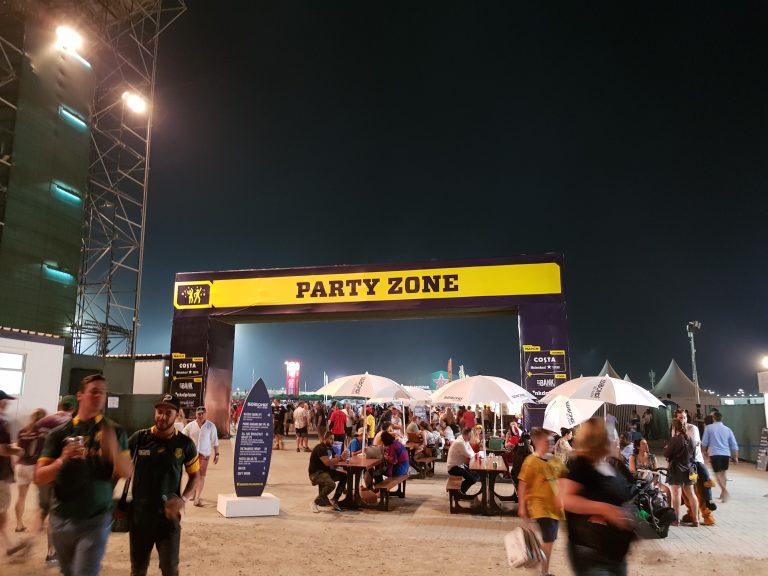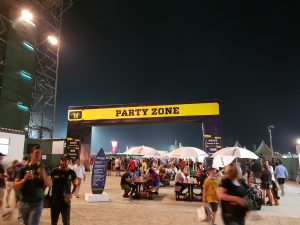 Since alcohol purchased in one zone could be taken to the stadium to watch the matches, there was also a separate family seating area inside the main stadium allowing families to enjoy the event in an alcohol-free environment with their children.
The permanent Rugby stadium in Dubai is rather small with a grandstand capacity of 4,000. For larger event such as the Rugby 7s, the stadium is expanded to accommodate 50,000 spectators. So there was sufficient seating available for fans, except for the zones which did not provide shading (see below).
PLUS: Food & Beverage:
There was a huge selection of food including main dishes with pork meat, chicken, beef, pizza and sweets. Costa Café also had a presence there, so no shortage of coffee either for those who got tired after spending a few hours at the event.
PLUS: Use of Technology:
There was a live commentator for each game providing background information and commentary via loudspeaker. The loudspeakers had an amazing sound and they just nailed the volume level. Not too loud but clear and easy to understand for the crowd.
Of course, the Dubai Sevens stadium has state of the art camera equipment to capture the event. Besides ordinary camera equipment, they also used drones to capture fan impressions and displayed them at the large stadium screens.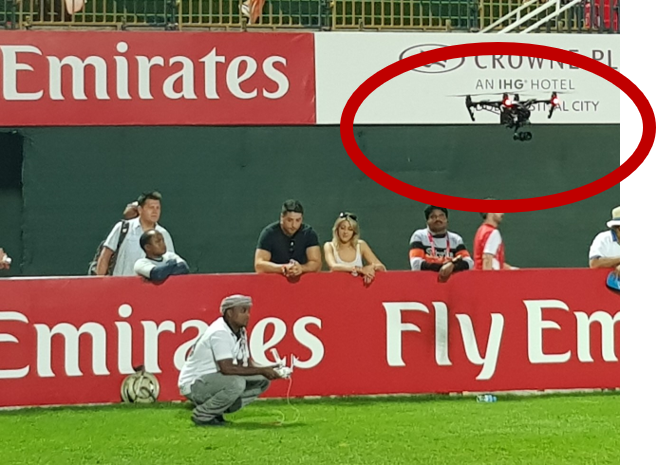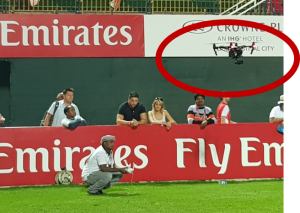 There is a well-designed, dedicated Dubai 7s website available with information about the matches, venue and location map to help fans plan their trip.
Fans could also download the Dubai Sevens App for information about the event and match results.
App use was limited however, especially from overseas fans who were unable to access free WiFi for more than one hour (continue reading below).
MINUS: Limited Free WiFi:
WiFi was only provided for free for one hour. After that, fans had a to pay a fee to continue using the network. That's somewhat strange in a country that provides unlimited free WiFi in all its major shopping malls, most cafes, restaurants and even in the metro. The Dubai International Airport has the fasted unlimited free airport WiFi in the world.
Lesson learned: The event was heavily sponsored by large corporations. Technology is usually not an issue in Dubai. So surely, it would have been possible to get one of the large national telecommunications companies to provide free WiFi during the event? Especially fans who travelled to Dubai and did not have access to their mobile data would have benefited from free WiFi.
MINUS: Transportation:
Organizers had announced busses to take fans back home after the games. There were even signposts to guide fans to the shuttle buses. However, we found no busses even after exploring the pickup area for 30 minutes and speaking to several tournament operations representatives. Instead, hundreds of fans were waiting in line to grab a cab back to the city. There were hundreds of taxis picking up fans but no busses on site….smells fishy. Perhaps someone thought is may be a much better deal generating some additional revenue if all fans had to take cabs back to Dubai rather than providing free shuttle buses. One taxi ride back to Dubai cost between AED 110 and 180 multiplied by thousands of passengers. What a great day for Dubai's taxi business.
Lesson learned: The event was heavily sponsored by large corporations. Is it really necessary to disappoint fans by ripping them off at the exit after such a great show?
MINUS: Shading:
Temperature is always an issue in this region. Even though temperatures usually drop significantly from up to 50 degrees Celsius (122 F) in summer to a comfortable 25 degrees (77 F) in winter, hot days can still be expected even in December. Unfortunately, the first December weekend was a hot one.
One of the tribunes was facing south-west giving it full sun exposure during the hot early afternoon hours. This made it almost impossible for fans to watch the games from this tribune. Instead, most fans had to move to the fully packed DHL tribune opposite in the shadow. Organizers could have provided more shading easily but they clearly had not anticipated these high temperatures in early December.
Lesson learned: Dubai can be hot. Even in December. So adequate shading of fan seating areas is required.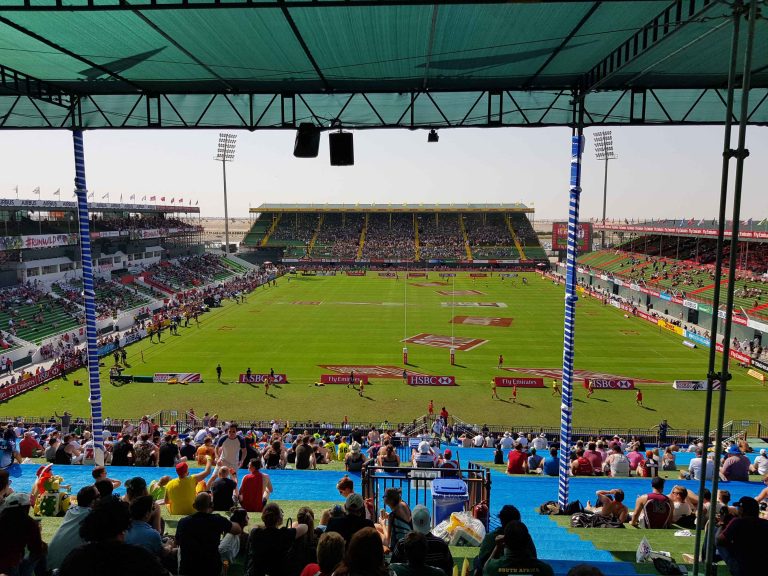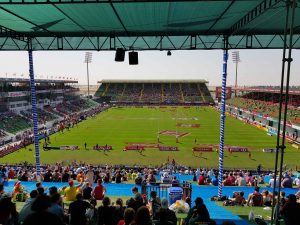 MINUS: Local Engagement:
Of course, Rugby is a "Western" game. Even so, it is a very British game. This means, it comes with the particulars of British, or Commonwealth culture. You could say of course "if you don't like it, stay away". However, don't events like this offer the opportunity for host countries to embrace the culture of the game while still displaying some local lifestyle? There were however, no signs of Arab, or UAE culture whatsoever. Almost no local food, no majlis, no shisha nothing. Probably very few locals attending the event altogether. So, the question is: If there can be a family section and dedicated family seating, why was there no dedicated seating for those who may enjoy a good Rugby game but do not wish to consume alcohol?
Lesson learned: More local fan engagement could be beneficial to the event. There could be dedicated alcohol and pork free zones for locals who want to enjoy a good game of Rugby….and for all others who don't enjoy drinking but come to see the matches only. How about a nice majlis next time which is open to locals and expats alike and gives locals the chance to display their culture and offer their hospitality to others as well?
Further improvement suggestions:
The Dubai Rugby 7s event already uses technology to enhance fan experience. Nevertheless, there is more the organizers could do. For instance, many leagues and clubs around the world already use beacon technology in their stadiums to provide fans with real time augmented reality information about players and the game.
In September 2017, the US Major League Baseball announced a new app, aptly titled "At Bat." This augmented reality application allows fans to use their mobile devices to instantly obtain a comprehensive picture of each player's statistics. By simply pulling up the app and pointing their mobile devices toward the field, the app populates the user's mobile screen with individual player profiles, including arm strength and catch probability in addition to staples like, on base percentage and batting averages. The app also allows them to follow the speed and trajectory of every single hit. Essentially, the "At Bat" app empowers baseball fans to serve as their own sports media analysts.
Wouldn't it be great to include real time information on games and players in the next edition of the Dubai Rugby 7s…along with free unlimited WiFi for all fans?
We're definitely looking forward!
Written by: Joern Schlimm