Business Continuity Management: Continuing operations in times of Corona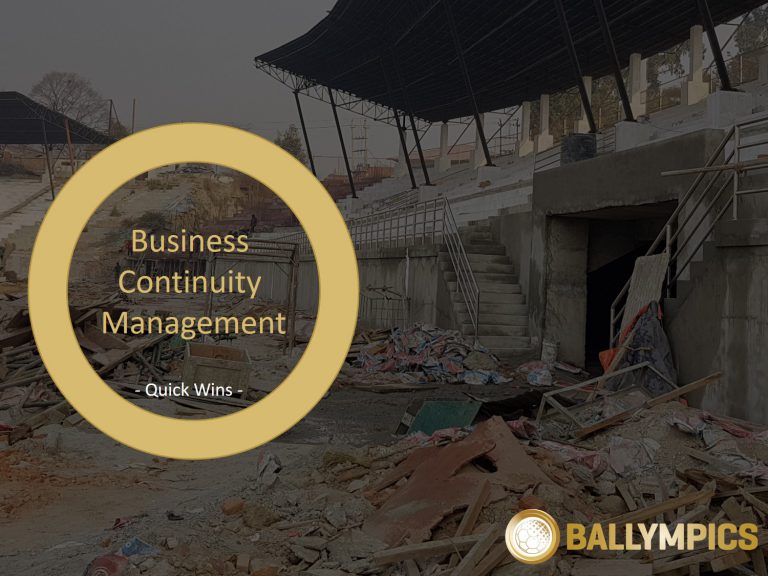 For large corporations, business continuity management, or BCM, is old hat. Many businesses have had their BCM plans in the drawer for years and can pull them out in times like these or at least use them as a basis for resuming their operations.
Covid-19 – How to respond to an unprecedented crisis
Sports organizations on the other hand, have not thought about BCM in the same ways. Few associations, leagues or clubs have actually planned for a scenario like Covid-19. Sports always seemed to be immune against crises or disasters. Even wars have not prevented people from at least playing sports, albeit on a smaller scale. A famous example is the "Christmas Truce" during World War One when enemy soldiers unofficially ceased fires along the Western Front around Christmas 1914 and reportedly played a number of football matches against enemy soldiers. So not even the man-made disaster with the second highest fatality rate in human history prevented people from engaging in sports.
Covid-19 is different. It is the first pandemic in modern history which has impacted sports on an international scale and led to the cancellation of tournaments and events around the globe costing sports organizations and event organizers billions of dollars.
For leagues and clubs, it is essential to resume operations as early as possible in the aftermath of global lockdowns in order to minimize their losses and ultimately, to survive. And this is exactly what BCM is about. There are best practice frameworks available, including ISO Standard 22301, which are widely used by businesses to plan and implement their BCM Systems. BCM Systems should define the basic activities and describe how and when they should be resumed after a disruption.
Reducing expenses and revitalizing revenue streams are among the most essential actions for sports organizations in the aftermath of a crisis.
Reducing expenses
The largest expense items for leagues and clubs are traditionally salaries. Although this is not a popular measure, sports organizations should try to reduce or defer salaries by mutual agreement to ensure their survival. One of the world's top paid football stars, Lionel Messi, already announced in February that he and his fellow FC Barcelona players had agreed to take a 70% pay cut to help the club manage costs amid the Covid-19 crisis. Italy's Juventus also announced early on that it would be slashing player's salaries over the next months, amounting to a saving of EUR 90 million (USD 98 million).
Juventus players are the third-best paid in the world, taking home an average of USD 10 million in 2019, according to Sporting Intelligence. Meanwhile in the UK, football players are resisting calls to accept sweeping pay cuts and are instead seeking a deferral of wages.
Revitalize income streams
Leagues and clubs will not be allowed by national legislators to continue operations (thus restoring some of their income streams) without a clear plan of how to protect their fans. So, the first step to resume operations is to define the prerequisites which need to be in place to accommodate official requirements for public health and safety.
Critical club revenue comes from sponsorship activities, so clubs need to offer their sponsors incentives to stay on board. One option is sponsorship placement during virtual player engagement activities such as Q&A sessions, Zoom Video conferences etc. Sponsor brands can also be carefully placed in social media campaigns.
Other operations which should be resumed as soon as possible include merchandise sales through online shops. Some clubs such as Bayern Munich have come up with brilliant marketing ideas such as Covid-19 masks branded by the club which will generate a new source of income for the club.
Some clubs turn to creative fundraising campaigns supported by their loyal fans. German fourth-tier football club Lok Leipzig for example, are claiming a new European record for the highest attendance at a football match. The club sold over 150,000 tickets for an imaginary match against an "invisible opponent" on May 8 as part of a fundraising campaign. 
As an alternative, clubs could offer "future bonds" including interest, usually between 3.5-5.0% giving fans the opportunity to help their clubs while they are under the impressions that they even earn a return on their investment. Bonds are an attractive model for football clubs because fans are usually happy to help their favorite team. However, fans should be very careful with these kinds of "investment" because the risk is usually extremely high considering the financial solvency of most football clubs and there is a good chance fans will never see their money again. Recent examples for clubs issuing bonds include German Bundesliga clubs Hamburger SV, 1. FC Kaiserslautern, 1. FC Köln and Schalke 04.
Another promising option are digital tokens issued by various international heavyweights such as Juventus Turin, FC Barcelona and Paris St. Germain.  For sporting clubs, digital tokens provide new and innovative ways of interacting with their global fan base. The tokens, which are stored and exchanged electronically, are designed to encourage supporters to interact with their clubs via mobile voting and polling. For instance, fans can participate in club surveys and vote for initiatives influencing the future development of their club.
When clubs have large fan bases, they also have the opportunity to offer crowdsourcing / crowdfunding initiatives for specific projects. Crowdfunding has recently been used by traditional club AFC Wimbledon to return to a new stadium on good old Plough Lane.